Having read books before by Lisa McMann I knew going into Crash that I would enjoy the writing style. She has a very distinct style of writing one that quickly hooks a reader and just as quickly propels the reader into the story that is unfolding with each page.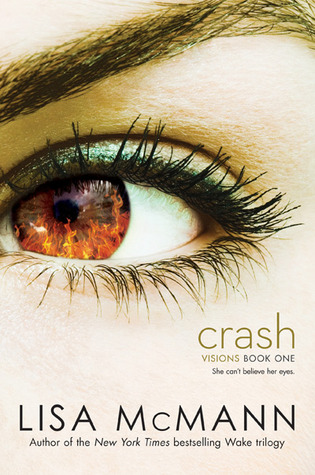 Jules lives with her family above their restaurant, which means she smells like pizza most of the time and drives their double-meatball-shaped food truck to school. It's not a recipe for popularity, but she can handle that. What she can't handle is the recurring vision that haunts her. Over and over, Jules sees a careening truck hit a building and explode...and nine body bags in the snow.
Right off the bat you know Jules life is about to get pretty complicated--or rather more complicated. Her crush is her family's archenemies son, her dad has some rough days, and to top it off she's now having this reoccurring vision that involves an explosion and body bags. Complicated doesn't begin to cover it.
Jules life very quickly draws you in. She's a character that is easily liked and the relationship she shares with her siblings is something that really made this book special in my opinion. Every moment that Jules interacted with her siblings were the moments you got to see the lighter and sarcastic side to her personality.
I enjoyed this book but it wasn't one that I was wowed by. I think my only issue with this book was it felt very repetitive at times in the way of Jules thought process with dealing with the vision. It slowed it down for me because it felt like I was reading the same thing over and over. But I will say towards the end it got to a point of not being able to put the book down because the story got so good!
Crash was a fun, at times slow read for me so it's getting 3.5 out of 5 birds from me! I will definitely be reading the second book after that ending. I would recommend this book to anyone looking for a quick read with a fun sibling dynamic!
.