Have you ever just read a book that spoke to you the entirety of the story? So much so that you have to sit back, soak in what you read, and then reread and realize just how much you never want to forget that line or the next line that you read that speaks even more volumes. The Perks of being a Wallflower is a book that everyone needs to read at different times in their lives. Now just happened to be the time I really needed to read it.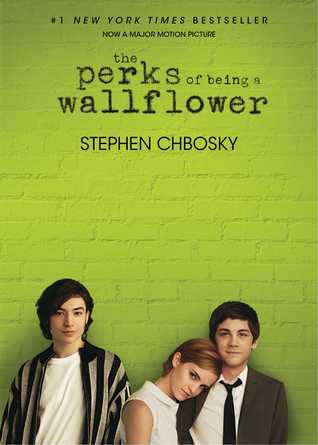 The Perks of Being a Wallflower is a story about what it's like to travel that strange course through the uncharted territory of high school. The world of first dates, family dramas, and new friends. Of sex, drugs, and The Rocky Horror Picture Show. Of those wild and poignant roller-coaster days known as growing up.
Charlie is a wallflower and he notices things other people don't and he keeps quiet about a lot of it. I haven't ever related to a character the way I connected with Charlie. I very much felt a lot of the same things Charlie did growing up and even now I still struggle with a lot of it. He struggles with figuring out how he can he be happy and sad at the same time. He's figuring out what it's like to actually have friends. He is one of my new favorite characters to ever be written. He's real and honest dealing with shit that a lot of kids deal with today. That's the most important thing about this book. It will forever be relevant.
Because of the way this book is written it makes it ten times easier for you to connect with Charlie. It's written in letter format and in such a real way that you feel as if these letters are written to you. At first as I was getting closer to finishing the book I couldn't help but wonder who Charlie was writing the letters too. And then I read the last few lines and it dawned on me that the letters are written in such a way that you feel as if the whole time, without realizing it, they were being written to you the reader.
I don't want to say to much about this book because it is one you need to read to understand how much it can effect a person. After finishing it I immediately wanted to read it again. That doesn't happen a lot. I read a book and I know at some point a few years later I will read it again. The Perks of being a Wallflower wasn't like that. I want to read it again now and I want to focus on some of the stuff that really stuck out to me.
Sam and Patrick are two characters that I adore and it's funny because right now in my life I have a Sam and Patrick. You don't really read a book and go "Oh that's characters best friend is so like my best friend." It isn't even that Sam and Patrick are like my two friends but the friendship that they have with Charlie feels very much similar. They are my people I guess is the best way to put it. It's really important to have a Sam and Patrick at some point in your life.
The Perks of being a Wallflower is getting 5 out of 5 birds! This book handles tough topics in a way that is honest and doesn't sugar coat any of it. I loved that. I loved the style that it was written and I loved the characters. If you haven't read this book I recommend you do. Maybe you don't feel like reading it right away. I know I didn't when I first bought the book a while ago. But I decided recently to read it and it happened to be the best time in my life to read it. Whether it's today or a year from now read this book because it's revelent and it makes you realize you aren't the only one who's thoughts can prevent you from actually participating in life.