Harry Potter and the Prisoner of Azkaban is my favorite movie in the series of films. As of now it is also my favorite book. I enjoyed the first series, the second fell flat for me but this one had my attention much more especially towards the ending.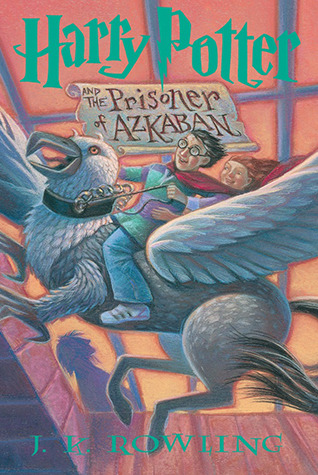 Harry Potter is lucky to reach the age of thirteen, since he has already survived the murderous attacks of the feared Dark Lord on more than one occasion. But his hopes for a quiet term concentrating on Quidditch are dashed when a maniacal mass-murderer escapes from Azkaban, pursued by the soul-sucking Dementors who guard the prison. It's assumed that Hogwarts is the safest place for Harry to be. But is it a coincidence that he can feel eyes watching him in the dark, and should he be taking Professor Trelawney's ghoulish predictions seriously?
Harry, Ron and Hermione are back at Howgart's and if you thought they couldn't get into anymore trouble you were wrong. These three attract trouble from a mile away.
These three have definitely grown up some since the last book and because of it I had a much easier time falling into the story. I don't know why this is but it's true. Harry is still the same great character but only older and better. Hermione and Ron are better and still favorites of mine. Though Ron and his grouchiness towards Hermione drives me crazy.
I will say that I wasn't quiet hooked on the story until much later in the book. It wasn't that it wasn't good but it was very easy for me to read three chapters and then put the book down. But then once I hit the 300 page mark I couldn't stop reading.
Remus and Sirius Black are two new favorites for me. I really loved these two character for different reasons. They brought something to this book that I think the first two were lacking. I can't pinpoint exactly what it is but they made the story better.
J.K Rowling has a way of dropping tiny hints and then bringing everything together so effortlessly and believable in a span of the last few chapters. I love that about her writing. Even if the first half is slow you know if you keep reading the end will make up for it.
Harry Potter and the Prisoner of Azkaban is getting 4 out of 5 birds from me! I probably won't start the next book right away but I do intend on reading it soon. That's one thing about this series is you can read one book, read something entirely different and then pick right back up with the next one without feeling lost.