Dreamland is one of Sarah Dessen's books that I had yet to read. I knew I would love it because I have loved everything that Sarah has written. I had heard this one was darker compared to her other books. Dreamland is such an important book and Sarah, as always, writes a complex story in the most honest way.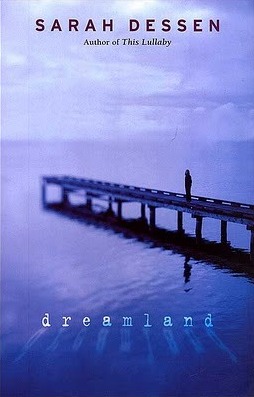 Wake up, Caitlin

Ever since she started going out with Rogerson Biscoe, Caitlin seems to have fallen into a semiconscious dreamland where nothing is quite real. Rogerson is different from anyone Caitlin has ever known. He's magnetic. He's compelling. He's dangerous. Being with him makes Caitlin forget about everything else--her missing sister, her withdrawn mother, her lackluster life. But what happens when being with Rogerson becomes a larger problem than being without him?
I so wish I had read this book sooner. I wish I had seen this side of Sarah's writing sooner because it is so good and brilliantly written. I wish I had meet these characters sooner. It's the same Sarah Dessen but deeper. There hasn't quiet been a character like Caitlin in any of the books I've read of Sarah's. Caitlin is the kind of character that to see her be knocked down over and over really gets to you.
Rogerson is bad news. You know he is bad news yet like Caitlin you find yourself liking him, falling for his...not charm but something. There is something about him that pulls you in. And then in a blink of an eye you are reminded why you felt so cautious about this character in the first place. Sarah Dessen wrote this character really honestly. Every mannerism, the way he spoke, everything about the way he was felt very true.
When it comes to a book written by Sarah Dessen you expect to like a lot of the side characters. It's hard not to when Sarah can craft their own little story into the bigger picture. I don't know how to explain it exactly but anyone who has read one of her books knows what I mean by this. Dreamland was no different I loved half of the characters in this book from Boo to Matthew.
This was a really quick read for me because the moment I started reading I couldn't stop. You get so caught up in Caitlin's narration. I loved everything about this book but most of all I loved that ending. Those final sentences were so beautiful. The more of Sarah's stuff I read the more I adore her as a writer.
Dreamland is getting 5 out of 5 birds from me for being such a fantastic book! If you haven't read this book yet or any of Sarah Dessen's other books I suggest you get on it. Her books are amazing. Each one is different yet beautiful in it's own way.