I knew about The DUFF for quiet a while before I got around to reading it. Actually what sparked my desire to finally read The DUFF was because of watching the movie. That rarely happens but in this case I'm glad it did because I enjoyed reading this book.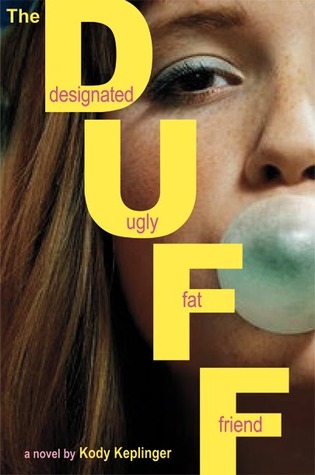 Seventeen-year-old Bianca Piper is cynical and loyal, and she doesn't think she's the prettiest of her friends by a long shot. She's also way too smart to fall for the charms of man-slut and slimy school hottie Wesley Rush. In fact, Bianca hates him. And when he nicknames her "the Duff," she throws her Coke in his face.

But things aren't so great at home right now, and Bianca is desperate for a distraction. She ends up kissing Wesley. Worse, she likes it. Eager for escape, Bianca throws herself into a closeted enemies-with-benefits relationship with him.




Until it all goes horribly awry. It turns out Wesley isn't such a bad listener, and his life is pretty screwed up, too. Suddenly Bianca realizes with absolute horror that she's falling for the guy she thought she hated more than anyone.
Bianca is informed by her high school's man-slut that she is The DUFF--Designated Ugly Fat Friend. She doesn't take it very well. On top of being informed she's the ugly friend in her group her parents are having issues and all Bianca wants to do is escape.
This was a really quick read for me. Despite not agreeing with the way Bianca deals with the shit going on in her life I couldn't help but get wrapped up in the story. I really enjoyed Bianca's narration. She's got that won't put up with bullshit attitude with a big dollop of cynicism on top of that. I could relate with her thinking when it came to high school relationships. I was totally like that in high school only Bianca was straight forward and so not shy about it. I loved it, but I always wanted to shake some sense into the girl. I kept thinking to myself she could have found another way to distract herself from the issues presented in her life but at the same time I could sort of understand why she does what she does even if I didn't agree with it.
Wesley Rush is a really unlikeable character and yet I totally liked him, in fact by the end of this book I kind of sort of loved his character. I still don't quiet know how that happened when half the things he said made me want to shove a bar of soap in his mouth. But even though he said a lot of things that would have made me walk away in disgust in real life there was something about his being upfront that I liked. He didn't hide the fact he was a man-whore and he certainly did not sensor his thoughts when he definitely should have.
This book has a pretty good message despite containing a lot of not so good examples of dealing with stress. I think half of the population has felt like The DUFF. I know I have. I really liked that this book tackled the struggle of dealing with the thought of being the least attractive friend. Something like that can really get into your head and I thought that Kody Keplinger did a good job of writing it in a way that felt realistic to me.
Now if you have seen the movie and expect to find the same thing in this book you won't. They are completely different. They hold the same message only presented in completely different ways. I enjoyed both the movie and the book and would totally tell people to see the movie and read the book. Just don't expect to find the same story.
The DUFF was another hit and is getting 4 out of 5 birds from me. I would recommend this to anyone who likes a quick contemporary read. The subject might not be everyone's cup of tea but Bianca is a really great character and it's a really good read. I will definitely be reading more from this author.