I've read a lot of books. Some hits others not such a hit. I've read books that I thought I never wanted to end, books that I could have read for what felt like ages. I have never read a book quiet like Fangirl. I feel like I literally could read chapters and chapters about Levi and Cath and never once feel the need for their story to come to a conclusion.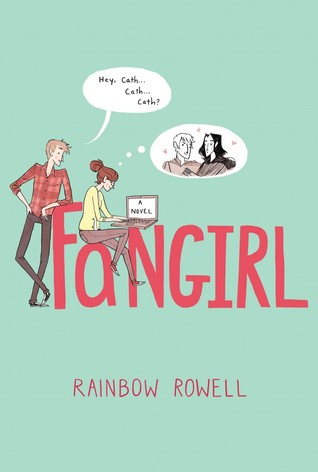 Cath is a Simon Snow fan.

Okay, the whole world is a Simon Snow fan...

But for Cath, being a fan is her life—and she's really good at it. She and her twin sister, Wren, ensconced themselves in the Simon Snow series when they were just kids; it's what got them through their mother leaving.

Reading. Rereading. Hanging out in Simon Snow forums, writing Simon Snow fan fiction, dressing up like the characters for every movie premiere.

Cath's sister has mostly grown away from fandom, but Cath can't let go. She doesn't want to.

Now that they're going to college, Wren has told Cath she doesn't want to be roommates. Cath is on her own, completely outside of her comfort zone. She's got a surly roommate with a charming, always-around boyfriend, a fiction-writing professor who thinks fan fiction is the end of the civilized world, a handsome classmate who only wants to talk about words... And she can't stop worrying about her dad, who's loving and fragile and has never really been alone.

For Cath, the question is: Can she do this?

Can she make it without Wren holding her hand? Is she ready to start living her own life? Writing her own stories?

And does she even want to move on if it means leaving Simon Snow behind?
Cath and her twin sister Wren are starting their freshman year of college. Cath would much rather be sitting in her room writing fanfiction instead of hanging out with a bunch of people she doesn't want to get to know. Wren is all about the people and the experience.
I wasn't to sure if I would like Cath or Wren at first. We get more Cath then we do Wren in the first half of the book. It took me a chapter or two to fall into the style that Rainbow Rowell wrote, but once I did, once I fell completely into the writing and Cath's story I was completely gripped. I could relate so much with Cath. The anxiety, the struggle with meeting new people, the desire to write until your wrists hurt. Everything about Cath made me go "I so get that."
Wren despite me wanting to shake some sense into her the first half of the book I couldn't not like her. Even when I wanted to dislike her I couldn't. Not really. Because even though she screws up, gets wrapped up in the fun that is college Wren is still a great character. She's a bit screwed up, but you can't hold it against her because she's dealt with a lot. She just handles it different than Cath. Has her own issues.
Fangirl has been one of the realest books I've read in a long time. I've read a few books recently that felt pretty darn real, but nothing quiet like this. Something about the way it was written, how fleshed out and denominational these characters were made everything about it practically seem tangible, like at any moment Levi would walk down the street with that big ass smile.
Cath's got a pretty dysfunctional family. I loved it once again because of the realness. Most families are dysfunctional. In a lot of books that I read the families are either not very present or when they are present it doesn't flow naturally. This book not only flowed naturally but it was all so denominational--the characters, their problems, their struggles, the whole story itself.
I can only put off talking about Levi for so long. I knew that if I didn't hold off that I would not get the rest of this review written because LEVI. Yes, he's so good his name had to be capitalized. This character was REAL. I know I keep saying that but I can't find another word to describe this story other than real. Levi was an amazing character. I want a Levi. Levi has kicked all my book boyfriends to the curb, with a toothy smile of course, and taken the crown of ultimate book boyfriend. I don't know if there will be character that can top Levi. I seriously don't. This whole paragraph has told you nothing about Levi, all I've said is how much I love him but I feel like you have to read this book and meet Levi yourself. Just wait, Levi shows up and you're a goner even before you realize your a goner.
My only issue with this book was the story about Simon and Baz. I was so consumed by Cath and Levi that I didn't want to read about Simon and Baz. I did at first, I read the fanfiction that was in the story and I liked it don't get me wrong, but to me it was like reading a whole other book. I didn't want to do that. I wanted Cath and Levi. Simon and Baz needed to wait until after I had finished Cath and Levi's story, so I skipped over a lot of the stuff that Cath wrote simply because it clouded my brain when all I wanted was Cath's story. Now I get that it was apart of her story, but the way it was written felt like two different things despite it all technically being one.
Fangirl is getting 4.5 out of 5 birds from me! I loved this book. I did not want to stop reading about Levi and Cath. I was actually really sad when I came to the last page. I wanted more. Rainbow Rowell has hooked me. I will most definitely be reading more from her and I would recommend you read Fangirl. It's such a great book.