Some books you wish you hadn't read until closer to the release date of the next book. That happened with All The Boys I've Loved Before. In no way did I regret reading that book but boy was I in for a long wait for the next book. And finally getting to read P.S I Still Love You and devouring it like my favorite desert makes me realize there are just some authors who you want an endless supply of their books right after the other.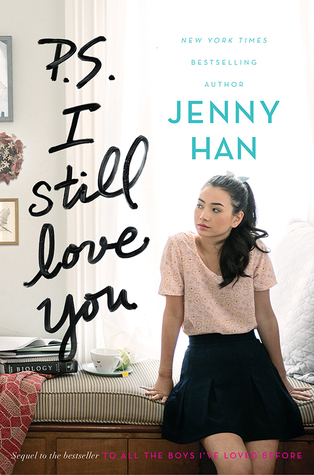 Lara Jean didn't expect to really fall for Peter.
She and Peter were just pretending. Except suddenly they weren't. Now Lara Jean is more confused than ever.
When another boy from her past returns to her life, Lara Jean's feelings for him return too. Can a girl be in love with two boys at once?

In this charming and heartfelt sequel to the New York Times bestseller To All the Boys I've Loved Before, we see first love through the eyes of the unforgettable Lara Jean. Love is never easy, but maybe that's part of what makes it so amazing.
Lara Jean had never intended to actually have feelings for Peter. Those were of the past. Until they weren't. But now things are complicated. Another boy who got one of her letters shows up and it makes everything confusing for Lara Jean.
If there is one thing Jenny Han can do is she can write a book that makes you feel everything the main character is feeling if not more. I was apprehensive at first when I started this series when it came to Lara Jean because she was new to me and I had been so attached to the main character in Jenny Han's first series that it made me really miss those characters who's story I felt so entwined in. I quickly grew to love Lara Jean and my affection for her grew deeper in this book. She is easy to connect with and though she is young there are moments when she is so wise and beyond her years.
I was so nervous going into this book. One because I had no clue what to except. A new boy? That smelt like trouble. And secondly knowing this was the last we would get to read about Lara Jean made me so sad it turned into nervous butterflies hoping that it all worked out for her and Peter. What I most definitely wasn't expecting was to fall so hard for the new boy John who we briefly knew about in the first book but never got to know on a deep level.
John won me over as he would any girl. He is the guy every girl wants to fall in love with. He is the guy that reminds you that though you think they can't have all the qualities of kindness, chivalry, humor, just the right amount of confidence and shyness they so can. I'll even go as far as saying I almost wanted Lara Jean to fall as head over heels for John as I did. Not that I didn't love Peter because there will never be a character quiet like Peter Kavinsky, but John was special in a very different way.
Peter Kavinsky oh how you frustrate me so! I love this character for a lot of reasons but I had my moments of wanting to shake him bonkers. But, gosh I adore him. He's so full of himself yet so not at the same time. I feel like if I say to much about Peter I will ruin something so I will keep it short and sweet. Sweet, like Peter Kavinsky.
The bond between Lara Jean and her sisters is one of my favorite things about these books. I couldn't get enough of Kitty and her sass. I so hope that by some small chance we get a book about Kitty. There is nothing I would want more than to see how Kitty is as a sixteen year old. She would be fierce and a force to be reckoned with. It would be amazing. I know I can't be alone in wanting a book from Kitty's teenage point of view.
P.S I Still Love You was a hit and is getting 5 out of 5 birds from me! Jenny Han writes such beautiful stories and I personally can't wait for more from her. I could never get enough books from Jenny Han. Her stories are timeless. Read them, read them all!