I was late on the John Green bandwagon. It's taken me a long time to pick up his books but now that I have read three now I realize why he's such a beloved author by so many. His stories are real and they make you think about life. They also have these amazing moments that make you bust out laughing. Paper Towns had many of those laugh out loud moments among the seriousness.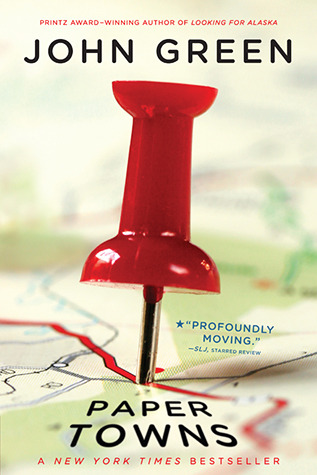 Quentin Jacobsen has spent a lifetime loving the magnificently adventurous Margo Roth Spiegelman from afar. So when she cracks open a window and climbs into his life—dressed like a ninja and summoning him for an ingenious campaign of revenge—he follows. After their all-nighter ends, and a new day breaks, Q arrives at school to discover that Margo, always an enigma, has now become a mystery. But Q soon learns that there are clues—and they're for him. Urged down a disconnected path, the closer he gets, the less Q sees the girl he thought he knew.
Ever since Margo Roth Spiegelman moved in next door to Quentin she's been the center of his attention. She has a way of disappearing, leaving clues to find her and after spending an adventurous night together Margo leaves leaving behind a trail for Quentin to unravel and follow.
This book caught me like a fish right away. It was so easy to fall into John's writing that by the fourth chapter I thought "This is going to be my favorite John Green book." And now after reading the whole book I still have that feeling, only this time I know for sure it's my favorite that I have read of his. Granted, I still have books of his to check off my to-be-read list but with Paper Towns there are so many moments I want to pluck off the page and store in my brain.
Quentin is a really great character. He's quirky, determined, hilarious, typical video gaming guy. A little to caught up in Margo Roth Spiegelman? Yes, but it was easy to understand why he got so caught up in her. For so long he has watched her, studied her thinking he knew who this girl was only to realize he had no idea. I really enjoyed Quentin and his discovery of Margo and the person she is. I loved his inability to think of her as just Margo, to him she was always Margo Roth Speigelman.
There was something about Margo and Quentin's adventure that made me wish I could take part in it. I would like to think I would be witty and spontaneous like Margo but I know I'd be Quentin in that type of situation. I got so caught up in that one night that I almost wish it hadn't ended, that the adventure was endless between those two. There was something about it that captivated me. It was such a fun thing.
John Green created not only fantastic main characters but the friends to Quentin--Ben and Radar--were amazing. Ben is completely full of himself, a little bit obnoxious but boy is he funny. He's the type of person you can't help but want to know, yet at the same time am like "Thank god I don't have a friend like him". When I was laughing out loud nine out of ten times it had to do with Ben. "It's gonna blow!" nearly made me die of laughter. The banter between the three boys was great and flew as naturally as it should between a group of tight friends.
Though I really enjoyed this story there we're moments where I was a little frustrated. For one thing Quentin only thought about Margo and once she leaves it goes full throttle and his mission is to find her. I understood that was what this story was about, finding Margo, figuring out who this girl is and along the way figuring out who Quentin is. But, like Ben and Radar I would get frustrated with just how caught up in it he was. And yet I could understand why he was so consumed by her. It was mixture of feelings about it really.
Paper Towns is getting 4.5 out of 5 birds from me! I loved this book, the middle got a little slow at times but overall it was easy to fall into this story. It's one that sticks with you and makes you wonder where the characters are after the end. If you are a fan of John Green and haven't read this one yet I would recommend you get on it. This would be the book I would recommend to those who have yet to read anything by John Green.