Immediately after reading The 100 by Kass Morgan I wanted the next book. Thankfully I started this series at the right time. The second book is out and the third one just came out a week or so ago. After reading this one I had that same feeling of wanting to read the next right away.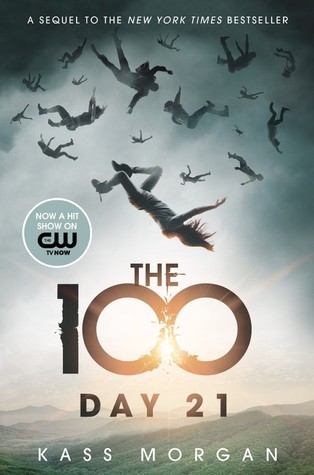 No one has set foot on Earth in centuries -- until now.
It's been 21 days since the hundred landed on Earth. They're the only humans to set foot on the planet in centuries...or so they thought. Facing an unknown enemy, Wells attempts to keep the group together. Clarke strikes out for Mount Weather, in search of other Colonists, while Bellamy is determined to rescue his sister, no matter the cost. And back on the ship, Glass faces an unthinkable choice between the love of her life and life itself.
In this pulse-pounding sequel to Kass Morgan's The 100, secrets are revealed, beliefs are challenged, and relationships are tested. And the hundred will struggle to survive the only way they can -- together.
Day 21 picks up two days where The 100 leaves us. Even though I went a few weeks before being to able to get a copy of this book it didn't take me long to get back into the story. If anything it sucked me in even further. The characters have grown, the story has progressed and things are getting twisty and turny.
There is quiet a bit of character growth in this one especially with Wells. He frustrated and often annoyed me in the first book. I never wanted to read his chapters, always waiting for it to switch back to Bellamy or Clarke. With Day 21 I found myself actually enjoying his chapters. When he isn't obsessive over Clarke he's actually a really awesome character. I'm really curious how things will go for him in the next book. Especially since it seems he will be one very involved with the Earthborns.
Bellamy and Clarke's relationship takes the next step in this book and I loved every bit of it! I was not expecting for there to be a connection between them and their pasts. Yet, it was perfect. It brought them together on a deeper level and it made Clarke come to terms with what has been haunting her.
Surprisingly I wasn't as invested in Glass's story as I was in the first book. I love Luke. I think he is a fantastic character but there a moments where I find I get a little bored with Glass and her love story with Luke. I can't pinpoint what it was this time around but I couldn't fall in to their story like before.
There we're quiet a few surprises in the book that I didn't see coming, but a part of me felt I should have caught on. I personally really enjoy reading these books. They are quickly paced, the storyline its self is very intriguing and to top it off you've got fantastic characters. Some could use a little bit more fleshing out but most are written really well.
Day 21 is getting 4 out of 5 birds from me! I'm starting the third book in this series right away. I'm really curious to see what will happen next after the way it was ended. I'd recommend this series to anyone who loves a book set in a future with well written characters and an interesting premise. It's easy to get caught up in the story.