I don't know how to feel about the fact that The Ruby Circle is the last book in the Bloodlines series. It's bittersweet and after finishing the book I clutched it to my chest, it was so good. I was sad it was over. I wanted more and yet at the same time I am glad that all this chaos in their lives is over. And then I'm just sad again. Book feels people, major book feels.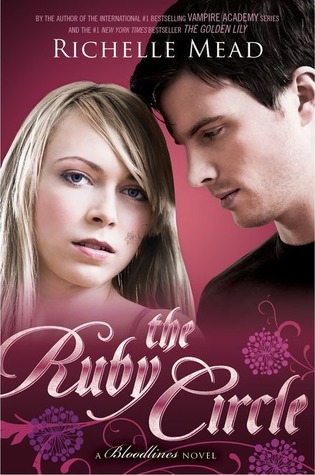 Sydney Sage is an Alchemist, one of a group of humans who dabble in magic and serve to bridge the worlds of humans and vampires. They protect vampire secrets—and human lives.

After their secret romance is exposed, Sydney and Adrian find themselves facing the wrath of both the Alchemists and the Moroi in this electrifying conclusion to Richelle Mead's New York Times bestselling Bloodlines series. When the life of someone they both love is put on the line, Sydney risks everything to hunt down a deadly former nemesis. Meanwhile, Adrian becomes enmeshed in a puzzle that could hold the key to a shocking secret about spirit magic, a secret that could shake the entire Moroi world.
Let me start off by saying that the fact this series is over has me a tad bit emotional. And by a tad bit I mean a lot. I fell in love with Sydney and Adrian, two characters that in the beginning I didn't feel such affection for. I can remember being unsure about this spinoff from Vampire Academy, but curious as well. All doubts were gone after each book in the series and now with this final one I wish there were more to come.
Sydney proves that her strength mentally and physically meets no bounds when it comes to helping those she loves. Sure, she's only human and doesn't have brute force on her side. But she has wits and she can conjure one nasty fireball. Not only that she is surrounded by those who care about her. Sydney is amazing and I loved everything about her in this final book. She has grown so much since the very first time she was introduced to us--whether it be in the Vampire Academy books or the very first book in this series there is no denying her growth.
Adrian oh boy. To think I used to want to deck you sometimes. Now I just want to smother him in hugs. He has become one amazing and well rounded character who never lost his sarcastic charm. He went from a boy and has turned into a man. I can't really put into words how much I loved the character he grew into. The struggles he faced and overcame when everything seemed to be pitted against him, even his own mind.
With the events that took place in Silver Shadows it made me realize anything was possible with this final book. Anything, because after the events in Sydney and Adrian's relationship that took place it was a wow moment. A moment of, oh shit Richelle Mead is pulling out the big guns. She did so in The Ruby Circle. Let's just say there are some jaw dropping moments that make you love this author ten times more. As if we needed another reason to love her am I right?
I could sit here and write a lot about this book. About how much my love for Eddie grew. How the book was fast paced and not a moment of dull. I could discuss spoilers to great lengths because I have so much to say. But I won't. This is book is to good to be ruined. Richelle Mead wrapped things up for this series so well and past what I ever thought she would do. This book will make you smile and sigh in joy and sadness.
The Ruby Circle is getting 5 out of 5 birds from me! If you are a fan of this series and Vampire Academy I know that everyone will be happy and wondering if maybe by some miracle we get more. Read this book. Start the first one if you have yet to read it. Richelle Mead writes in a way that makes you get so caught up in the story you can't help but ravish the book in a sitting or two.