After finishing Anna and the French Kiss I knew right away I wanted to start the next book, Lola and the Boy Next Door. I am so glad I did because I loved this one even more than the first! Lola and Cricket's story stole my heart.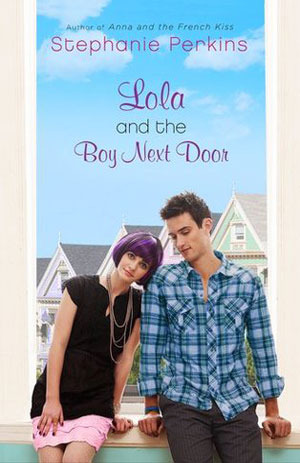 Lola Nolan is a budding costume designer, and for her, the more outrageous, sparkly, and fun the outfit, the better. And everything is pretty perfect in her life (right down to her hot rocker boyfriend) until the Bell twins, Calliope and Cricket, return to the neighborhood. When Cricket, a gifted inventor, steps out from his twin sister's shadow and back into Lola's life, she must finally reconcile a lifetime of feelings for the boy next door.
Lola looks different everyday, her sense of fashion colorful, sparkly and all her own. She's dating an older guy who's often on the road playing shows. Things become complicated when her old neighbors move back in next door. Her feelings for Cricket Bell might not be as dormant as she first thought.
I was super excited to start this book after finishing Anna and the French Kiss. At first I wasn't sure if I would fall into Lola's narration as quickly as I did with Anna, but I found that not to be the case. If anything I feel into Lola's story deeper than I did with Anna and St. Clair. Lola is who she is, but at the same time she's still figuring out who that person is. Lola was a fantastic character. I connected with her on a deeper level I didn't with Anna. Which seems crazy because I really understood Anna and felt I related to her so much. It goes to show Lola is an awesome character.
Holy moly did I adore Cricket. He was not what I was expecting. At first I was like hmmm I don't know about you boy. That thought lasted about two seconds and then Cricket started to speak and I was melted. He's just so Cricket that it's impossible not to love him and the way he writes little notes on his hand. I wanted to reach into this book and claim Cricket mine. He is such a sweetheart.
What I loved about this book was that we got an outsiders view on Anna and St. Clair. We got to see how they are and where their relationship is now. I adored that so much. It was nice to still have those characters present while falling in love with Lola and Cricket's story.
Lola has two dads. Each was written in a very distinct way. I loved Nathan and his protective side. Andy and his love for baking. It was a refreshing and the dynamic between the two was great. There are many more reasons why I loved Lola's parents but I won't rattle them off because it's best to read the book and see why I adore them so much.
At first I wasn't going to discuss Max because well, honestly I don't feel he deserves to be mentioned. I knew I didn't like him. But I didn't realize how much I would dislike him by the end of this book. Max should never have been with Lola in the first place. I feel like he was harsh towards Lola in a way that had she not been surrounded by the people she was could have really screwed her up. Words hurt.
Lola and the Boy Next Door is getting 4.5 out of 5 birds from me! I adored this book and will most definitely be reading the next book. I will be reading any book by Stephanie Perkins for that matter. And you should too.