I have heard and been told so many times to read a book by Stephanie Perkins. I thought okay this book does sound really cute. Yet, I never started it. I bought it and it sat on my shelf for a year or two. Now that I've finally read it I understand why so many people love the story and they way Stephanie Perkins writes.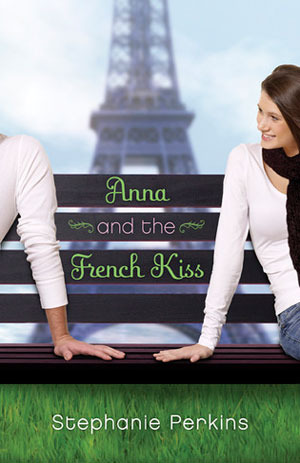 Anna is looking forward to her senior year in Atlanta, where she has a great job, a loyal best friend, and a crush on the verge of becoming more. Which is why she is less than thrilled about being shipped off to boarding school in Paris--until she meets Étienne St. Clair. Smart, charming, beautiful, Étienne has it all...including a serious girlfriend.

But in the City of Light, wishes have a way of coming true. Will a year of romantic near-misses end with their long-awaited French kiss?
Anna's father sends her to a boarding school in France. Sounds fun right? Not to Anna. She barely knows any French, doesn't want to leave the boy she likes, her best friend or her little brother behind. Her thoughts on France change the longer she is there and the more she gets to know St. Clair.
It took me minutes to get engrossed in this story. Right away I loved Anna and her voice. She's quirky and funny. She's intelligent and loyal. It was very easy for me to relate to Anna. Like her I have a love for movies. I could understand her love for writing reviews on the films she see's. What else I could really understand was her anxiety about not knowing how to speak french. I would have been just as nervous as her.
Etienne St. Clair was everything and well, everything. Very much like with Anna I adored him instantly. They are both the type of characters that you simply can't help but love. St. Clair was an interesting character. He's funny, charming, handsome, thoughtful and yet he has issues of his own. These issues cause drama that make you groan because you want to see him happy.
I didn't realize how much I would love having a book set in France. The way that Stephanie Perkins writes made it feel like you were there with Anna and her group of friends. It made me want to get on a plane and find this boarding school and attend it. Of course St. Clair was a big part of this desire but the French setting just added to it.
Anna and the French Kiss is a fun and adorable book. But after the first half things go from being light to being a bit more serious. Don't get me wrong there are still those moments of heartfelt giggles, but things change. I loved the transition and how Stephanie Perkins was able to keep the heart of the story still there in spite of the drama.
I'm giving Anna and the French Kiss 4.5 out of 5 birds! I really enjoyed this book. I'm a little disappointed in myself for not reading it sooner yet at the same time I'm not. Now I don't have to wait to read the next one, which I plan on doing right away! I would recommend this book to anyone. It was such a good read.