I've read a couple of Ginger Scott's books and I've enjoyed pretty much all of them from what I can remember. She has a way with contemporary stories and This is Falling is probably my new favorite from this author.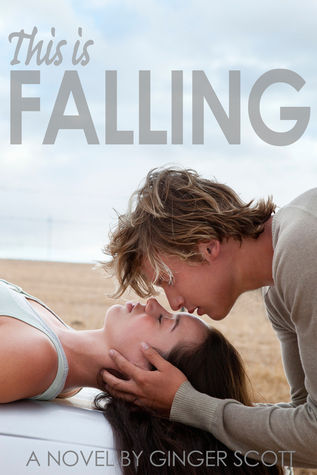 First, I had to remember how to breathe. Then, I had to learn how to survive. Two years, three months and sixteen days had passed since I was the Rowe Stanton from before, since tragedy stole my youth and my heart went along with it.

When I left for college, I put a thousand miles between my future and my past. I'd made a choice—I was going to cross back to the other side, to live with the living. I just didn't know how.

And then I met Nate Preeter.

An All-American baseball player, Nate wasn't supposed to notice a ghost-of-a-girl like me. But he did. He shouldn't want to know my name. But he did. And when he learned my secret and saw the scars it left behind, he was supposed to run. But he didn't.

My heart was dead, and I was never supposed to belong to anyone. But Nate Preeter had me feeling, and he made me want to be his. He showed me everything I was missing.

And then he showed me how to fall.
Rowe is broken, tormented by a traumatic event that took the lives of two people she cared most for. She pushes herself to go to college where she meets Nate just the thing she needed.
I was able to relate to Rowe right from the opening chapter. I knew then and there I would like her character. So much about her I could understand--just the way she thought was easy to follow which made this read so much quicker. Sometimes with stories like this you wonder how it can be any different from the rest but there was something about Rowe's story that really kept me invested. Though she was broken there was a strength inside her that just needed help coming out.
Sometimes I really adore the main characters close friends in the story and other times I do not. I really really loved the friends Rowe made in this book. Cass being my favorite. I loved her character and I thought together her and Rowe we're even better. They were the type that made the other friend better whether it be wittier or get them to open up. I loved their friendship.
Nate and Ty--though Nate is the main boy in this story I have to discuss them both because I loved them both. Nate is the guy you wish you would meet in college. He's the guy who has the looks, plays baseball but totally has manners and a thoughtful way of thinking. I really loved Nate and I don't know if I would have loved him as much as I did had we not gotten the chapters from his point of view. I am really loving male point of view more and more.
Now to talk about Ty. He is hilarious and says whatever the hell he wants. I loved this character and wish there was more of him than there was. It was pretty much a guarantee that when Ty was around I was chuckling put Nate in the mix and I was belly rolling. The banter between them was so amusing. I am so excited that we are getting Ty and Cass story because I was so not done with these two! I can't wait!
One thing that bugged me about this book was the lack of mention of Betsy. I understand that Josh was the core of the story because of what he did, but I feel like there wasn't enough mention of Betsy. Then again she did have two years to process that grief while being riddled with guilt about Josh. I don't know though I still feel that character was underdeveloped and way to nonexistent.
This book is a quick read when you have the time to sit down and read it. It took me longer than it should have because of being swamped with school, but I can say that when I had the time and I did start reading I blew through the chapters. I wish I could have read this one faster because I feel I would be able to write a better review had I read it all in a couple of days. It's definitely one that could be ready easy in a day or two.
This is Falling is getting 4.5 out of 5 birds from me! I really loved Rowe's story and can't wait to read the next book by Ginger Scott. I really enjoy her writing and the characters she creates. I'd recommend that if you are to read a Ginger Scott book this be the one. It's her best yet!