I had no idea going into this book just how much I was going to love it. Then again I should have known because this is Jenny Han. And Jenny Han has a way of writing that makes me fall in love over and over again with characters and the settings she creates.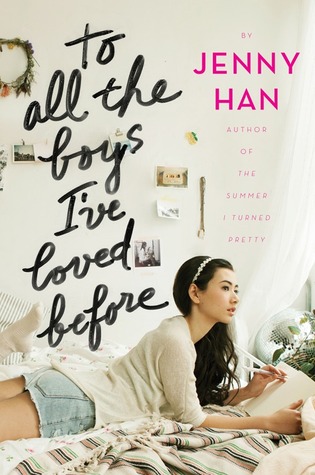 To All the Boys I've Loved Before is the story of Lara Jean, who has never openly admitted her crushes, but instead wrote each boy a letter about how she felt, sealed it, and hid it in a box under her bed. But one day Lara Jean discovers that somehow her secret box of letters has been mailed, causing all her crushes from her past to confront her about the letters: her first kiss, the boy from summer camp, even her sister's ex-boyfriend, Josh. As she learns to deal with her past loves face to face, Lara Jean discovers that something good may come out of these letters after all.
Lara Jean is a dreamy eyed girl who writes love letters--or goodbye letters to be more specific to boys she loved. It's a way for her to let that love go and lock it away in her hat box. Letters that are never ever supposed to be read by these boys and somehow get mailed out. Can you say oops?
I was a bit hesitant in the beginning chapters with Lara Jean. I'm not even sure why, but I suppose it was because I was so used to Belly from Jenny's Summer series that it felt strange to be reading about another character. I have to say though that quickly after those letters get mailed out I fell in love with Lara Jean's narration. She cracked me up. The best way to describe her is in Peter's words--cute and quirky. And even then she's so much more. I just loved her!
This storyline is so fun and cute and I can say truthfully the whole time reading this book I was either laughing or smiling. I just loved it. It's every girls worst nightmare what happens to Lara Jean and the way that Jenny Han wrote the story was just perfect. It was so easy after those first few chapters to fall into the story and into Lara Jean's life.
I really adored her family. Kitty being my favorite. She was hilarious and such a little wit for a nine year old! Margot I had a harder time liking but I could totally understand where she was coming from. And by the end I felt I had a better understanding of why she did or said the things she did. Not only was it just the family that I loved, but it was the culture. It really added something to the book having so much mention of different Korean dishes.
Alright, on to the boys. I can only hold off for so long. I gotta say I am truly torn about who I want Lara Jean to be with. Though a part of me feels I already know who it will be and I kind of really hope it happens. But then again I feel like there is a possibility still open for said other guy. I just don't know and I am loving--and dying for the next book because of it--not truly knowing what will happen with all these characters.
Peter is definitely one that will charm your pants off right away. He's cocky, witty, obnoxious, totally handsome and let me just say props to you if you can resist him! Because I couldn't. He was just something else. I felt unsure of his intentions throughout. but deep down kind of felt he had good ones even if he wasn't going about it quiet the best way. I really enjoyed Peter and am really curious to see what will happen with him and Lara Jean in the next book.
Josh is the boy next door. Super sweet and easy to care for. I really did like Josh and the way he always tried look out for Laura Jean, but at the same time when in the presence of Peter he just couldn't measure up. And I hate saying that because I really did love Josh but my mind was always thinking about when Peter would show up next.
Once I really started reading this book I couldn't stop. I read it every chance I could get and I finished it at midnight with a smile on my face. What a way to end it. I loved it and I am dying for the next book! To All The Boys I've Loved Before is getting 5 out of 5 birds from me! I would love to give it more I adore it so much. One of my new favorites. Read this one! You will not regret it I promise you!