Where do I even begin? Richelle Mead is and will forever be one of my favorite authors. I'm always impatiently waiting for the next book to come out from her because hello she writes such darn good books! And Silver Shadows has arrived. Finally. Let me tell you one thing. This book was not what I expected and so, so good because of it.
**Please note there will be spoilers from previous books in series so read at your own risk!**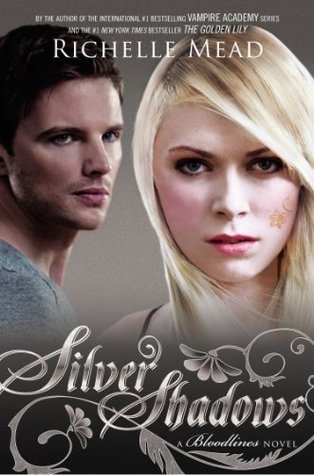 Sydney Sage is an Alchemist, one of a group of humans who dabble in magic and serve to bridge the worlds of humans and vampires. They protect vampire secrets—and human lives.

In The Fiery Heart, Sydney risked everything to follow her gut, walking a dangerous line to keep her feelings hidden from the Alchemists.

Now in the aftermath of an event that ripped their world apart, Sydney and Adrian struggle to pick up the pieces and find their way back to each other. But first, they have to survive.

For Sydney, trapped and surrounded by adversaries, life becomes a daily struggle to hold on to her identity and the memories of those she loves. Meanwhile, Adrian clings to hope in the face of those who tell him Sydney is a lost cause, but the battle proves daunting as old demons and new temptations begin to seize hold of him. . . .

Their worst fears now a chilling reality, Sydney and Adrian face their darkest hour in this heart-pounding fifth installment in the New York Times bestselling Bloodlines series, where all bets are off.
I honestly don't know where to begin with this review. Usually I give a tiny recap, but screw a recap I gotta talk about this book now! Silver Shadows was a roller coaster, nail biting, breathtaking, heartfelt, funny, heartbreaking and so much more all wrapped up in those three hundred and eighty pages. Wow. I just...I am so surprised by everything that happened.
I adore Sydney Sage not just because she is brilliant but because she is so damn loyal and strong as nails. I knew this was coming for Sydney but to actually read about it happening was tough. It was really like sitting on the edge of your seat because you didn't have a clue what was going to happen next during Sydney's chapters. All I can say is that you never want to end up on the wrong side of the Alchemist and their twisted way of beliefs. I think we really get to see just how strong willed Sydney is in this book and I loved that. She's put through literal hell and yet she keeps her wits despite the things that happen.
Adrian has become such an amazing character. Thinking back to who he was in Vampire Academy it makes me realize just how much he has grown. We see a really dark side of Adrian--we really see just how Spirit messes with his mind and though it was saddening it was great to have the insist, to be able to understand the struggle he has within himself. Despite the struggles and hell he himself is going through there are still those one lines from him that make you smile and go "Oh, Adrian." I just love him okay? And after the way this book ended I adore him more than I ever thought I could.
I mentioned it before that this book really wasn't what I was expecting and I am really glad about that. This book was better than what I could have thought was going to happen. Re-education was nothing like I thought. It was much more twisted. The way this book ended and the events that took place in those final chapters was nothing I ever, ever saw coming. But boy I squealed, I fangirled and I am still giddy about it. And I will be for a long time. Gah, for sake of not spoiling I will shut up.
There are some new characters introduced into the story and I really personally liked Duncan and Emma. I thought at first I wouldn't really like Emma, but I ended up being wrong. In addition to the new characters we get to see some of the old and that of course is always a treat!
Okay, I could go on and on about how much I love Richelle's writing and the characters she creates but I won't. Simply because you need to stop reading my review and go pick up the book! It's really good guys. Silver Shadows is getting 5 out of 5 birds from me! I am so upset that the final book will be coming out in February, yet I can't wait for it at the same time after that ending. Yes, beware there is another famous Richelle Mead ending. Gotta love her for that.