It's been a long time since I last read Someone Like You by Sarah Dessen. I'd forgotten just how much I loved this story. Every book that I ever read by Sarah always has a way of sticking with me. You can't help but think about the story and it's characters long after you've read the book. It's a nice refresher going back and falling in love with the story.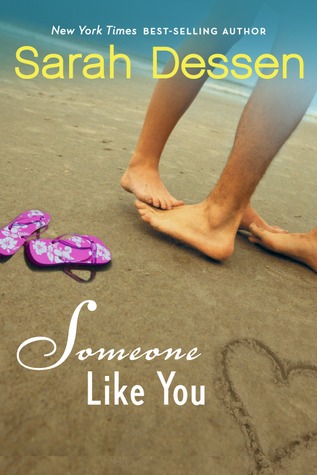 Halley has always followed in the wake of her best friend, Scarlett. But when Scarlett learns that her boyfriend has been killed in a motorcycle accident, and that she's carrying his baby, she's devastated. For the first time ever, Scarlett really needs Halley. Their friendship may bend under the weight, but it'll never break--because a true friendship is a promise you keep forever.
Halley has always been quiet and shy following her bold best friend Scarlett. And then everything changes when Michael Sherwood--an infectious, loveable boy who stole Scarlettt's heart--dies.
I really love Halley as a character. I could relate to her shy and quiet nature in the beginning of the book. She doesn't understand how anyone could like someone like her. I think we all go through that at some point in our lives and it was very easy to understand where Halley was coming from. She can't see herself for what she is and when Macon Faulkner sweeps her into his life she finds herself changing little by little. Halley really changes through the book. I loved who she became after hitting some bumps in the road. She no longer was this shy girl following her best friend. She stood tall, next to her best friend by the end of it. And I loved that.
Scarlett is such an awesome character. She's very mature for her age, yet at the same time their are moments when she says something and it reminds you she is only a teenager. Her whole life she's kind of had to be the mother of her own mom. I loved that though, the relationship Scarlett had with her mother. Getting not only to see Scarlett's growth as a character but also her mothers. She quickly became a favorite of mine.
Macon is the boy you know will break your heart but you can't help but fall in love with him anyways. It's inevitable.Very much like Michael Sherwood, he is infectious. He smiles and you can't help but melt a little bit. As Halley is falling for Macon, I could feel myself falling for him too. And yet, as the reader I knew Macon wasn't good for Halley. Halley didn't know it yet, but she deserved better. It's one of those characters that you love, but at the same time you know they are no good.
I've said it before and I will say it again. I love the messages that are always in a Sarah Dessen book. They never fail to hit home and make me think. Her books are always so beautifully written with friendships that make you laugh and break your heart, to family drama that you yourself can relate too. There is so much to love about the way Sarah Dessen writes.
Someone Like You is a book for everyone and one that I personally adore. I'm giving this book 5 out of 5 birds! From page one you find yourself getting quickly absorbed in Halley and Scarlett's friendship and the summer that changed both of their lives. I'd recommend everyone read this one. It's too good of a story not to be read.