At this point it's no secret I'm a big fan of Sarah Dessen books. It doesn't matter what she writes, there is always something about it that I love. Along for the Ride is no different, there is a lot about this story that I adore.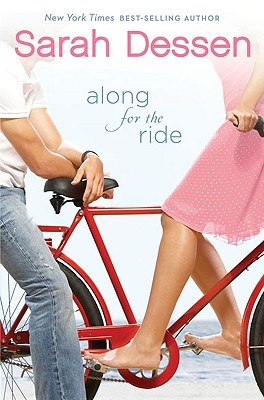 It's been so long since Auden slept at night. Ever since her parents' divorce—or since the fighting started. Now she has the chance to spend a carefree summer with her dad and his new family in the charming beach town where they live.

A job in a clothes boutique introduces Auden to the world of girls: their talk, their friendship, their crushes. She missed out on all that, too busy being the perfect daughter to her demanding mother. Then she meets Eli, an intriguing loner and a fellow insomniac who becomes her guide to the nocturnal world of the town. Together they embark on parallel quests: for Auden, to experience the carefree teenage life she's been denied; for Eli, to come to terms with the guilt he feels for the death of a friend.

In her signature pitch-perfect style, Sarah Dessen explores the hearts of two lonely people learning to connect.
Auden doesn't sleep at night, not since her parents divorce. She spends most of her nights at an all night diner to kill the time when everyone else is sleeping. And then she makes a rash decision to go spend the summer with her dad and her whole outlook on life changes with the people she meets.
Auden is a very complicated character. At times she can sound a bit...I don't want to say bitchy because she isn't a bitch. She's just been raised around a very opinionated woman and doesn't really know anything else. So she is very quick to judge. Though she was like this for the better half of the novel she would second guess these thoughts. I found myself really liking Auden and getting to experience her story. She really grew into an amazing character by the end of the book.
Like most of her books this book spotlights great friendships. Not just friendships that are already built and good, but the start of new ones that you know will last. I love reading about those kind of relationships and when the characters are as fantastic as Maggie, Esther, and Leah it's hard not to get engrossed in each of their different personalities.
I don't know if I've ever mentioned this in any of my other reviews for a Sarah Dessen book, but she often brings back characters from previous books. And she does it in some ways that are obvious and others that are so sneaky that if you blink you will miss it completely. I never used to catch it but now anytime I reread her books I'll get so excited when I do. And this one had quiet a few mentions of some great characters. It brings back the joy of reading those certain characters stories.
Alright, alright I'll get talking about the boy in this book. Because of course there is a boy. Eli is different than any of Sarah's previous characters. He doesn't say much and when he does it's often very to the point, with not much of a tone. And yet there is such an appeal to him. The more Auden and Eli got to know each other and learn about their pasts the more I fell in love with this character. He's so sweet and I loved how he made it his mission to help Auden experience all these things she missed out on as a kid.
I really loved this story and all of the characters in it. There are so many that are worth mentioning but this review would be really long if I did that. I can't get enough of Sarah's books, even long after I have read them. They are timeless to me. The summer setting vibrant and alive. The heart of the story touching. The friendships, sweet and the romances even sweeter. Need I say more?
Along for the Ride is getting 5 out of 5 birds from me! I really love Auden's story and I think it's one a lot of people would enjoy as well. Bring it to the beach with you. Read it by the pool. Curl up in bed with it. I don't care where you read it, just read it. I promise you won't regret it. It's such a good story.