Today is the start of the blog hop Hug An Author hosted by Lynn at
Bringing the Epic
, Marissa at
And Many to Read Before I Sleep
, and Jen at
What's On the Bookshelf
. I decided to participate in this blog hop because it is a great idea and I think authors deserve some hugs for their hard work. This blog hop goes from 12/5-12/10. You only have to post once through out the whole blog hop and I have chosen to post today.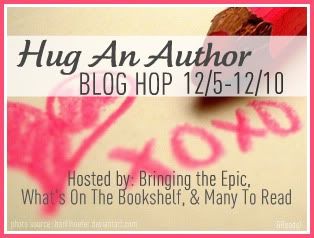 Question #1: Is there an author you've met or attended their signing? Who would you give your right arm to see?
Response: I got the chance to meet Richelle Mead on December 8th of 2010. It was one of the best nights of my life. I got to meet one of my idols! Obviously it was really important to me since I remember the exact date. I was in the front row with my mom and some really nice people and it was so awesome! Richelle Mead was funny and really nice. But what I so wish I could redo of that night is actually utter a word to her. Yes, I just stood there like a moron not speaking as she signed my books and talked to my mom. I was so speechless and had no idea to say. Hopefully I will get another chance to see her at a signing and actually say something. Saying something would be good. :)
Richelle Mead and I.
In response to the second question I would give my right arm to get the chance to meet Sarah Dessen. I love her books and she is one of the authors that I am dying to meet. She's basically my role model when it comes to writing. Hopefully when I do meet her I will speak words! :D
Question #2: Which author wrote the character you would want as your best friend?
Response: Defiantly Sarah Dessen. Almost every book of hers I have read I have wanted her characters to be real, especially the boys haha. But if I had to choose just one from all of her books that I would want as my best friend it would have to be Maggie from Along for the Ride. She is just such a great character.
Question #3: Is there an author who brought you back to reading?
Response: Stephine Meyer is defiantly the reason I am the book nerd I am today. Twilight started it but so many other books kept my love for reading going.
Question #4: Who is the author that created a world so vivid you were actually lost after it was over?
Response: Wow this is actually a hard one. There have been so many that have done this to me but the first author that pops into my head is Kelley Armstrong. After reading the Darkest Powers series I was completely lost after finishing the third book. The series is just so good and the world is vivid you really do get lost in it.