I've known about The Darkest Minds for a little while now. For some reason I never picked up a copy despite wanting to read it. Oh, boy am I happy to have finally read this book. It was so, so good.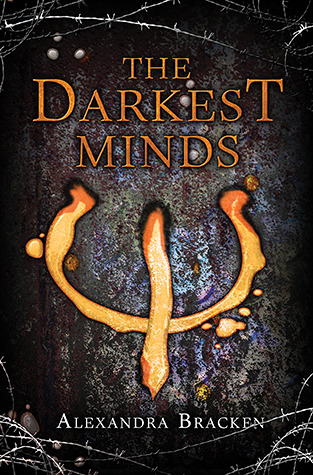 When Ruby woke up on her tenth birthday, something about her had changed. Something frightening enough to make her parents lock her in the garage and call the police. Something that got her sent to Thurmond, a brutal government "rehabilitation camp." She might have survived the mysterious disease that had killed most of America's children, but she and the others emerged with something far worse: frightening abilities they could not control.
Children are dying and those who aren't are now harboring abilities. Ruby survives and very quickly her life flips upside down. I loved Ruby. She is such a well written character and it took no time for me to fall into her voice as her story unfolded on the pages. Ruby is timid in the beginning, terrified of what she can do, or rather can't do: control her ability. There was so much character growth through out this book. Each page I felt like she was changing and becoming stronger in every aspect.
Alexandra Bracken's story telling is amazing. Being a reader who can typically struggle with Dystopian type books I found myself eating up every word on the page. She crafted everything so well that there was never a moment where I couldn't picture something clearly. In fact I could picture everything perfectly and feel the emotion coming off of the page. There was plenty of emotion toward the end of this book let me tell you.
Liam Stewart a southern boy who embodies sweetness. I loved Liam. I couldn't get enough of him whether it be when he's singing along to the radio, bantering with Chubs, or simply caring for Zu. There is so much I could say about Liam but he is one of those characters that words can't really explain how great he is. You have to read it for yourself and swoon your little heart out.
Chubs brought so much good to this book. Forever sassy, always cranky but so god damn caring. The banter between Chubs and Liam made me chuckle so many times. Especially the banter about good ole Betty.
One of my favorite things about this book was the relationships between the four Liam, Ruby, Zu, and Chubs. The way it was written was so good. They all had such a great dynamic.
To say I adored this book would be an understatement. I'll definitely be starting the second book soon. The Darkest Minds is getting 5 out of 5 birds from me. I would recommend this book to anyone. Alexandra Bracken is a new favorite of mine and I can not wait to read more from her.